Molloy Lawn & Landscape Has Been Serving the Local Community for Over 60 Years
Cultivate a stately lawn and landscape full of complex layers of garden beds, hedges, and elegantly shaped trees. Braintree, Massachusetts is a historic town located just south of Boston and is known for its rich colonial heritage and modern suburban charm. Continue the tradition of crisply-edged lawns and landscapes, transform your home's curb appeal with a chic new landscape design, or add a sweeping outdoor oasis to extend your home's living space into your backyard. The possibilities are endless with a professional landscaping services company like Molloy Lawn & Landscape.
With expert landscapers just a call or text away, you can come home to an elegantly designed landscape illuminated with custom lighting and hardscaping features, all effortlessly maintained and kept clean throughout the seasons. Host a family gathering in the backyard or entertain guests any season of the year with a premium outdoor living space, including a fireplace or fire pit. You can enjoy the view of the sunset over the Blue Hills Reservation or enjoy the sunrise from a cozy corner of your immaculate outdoor space.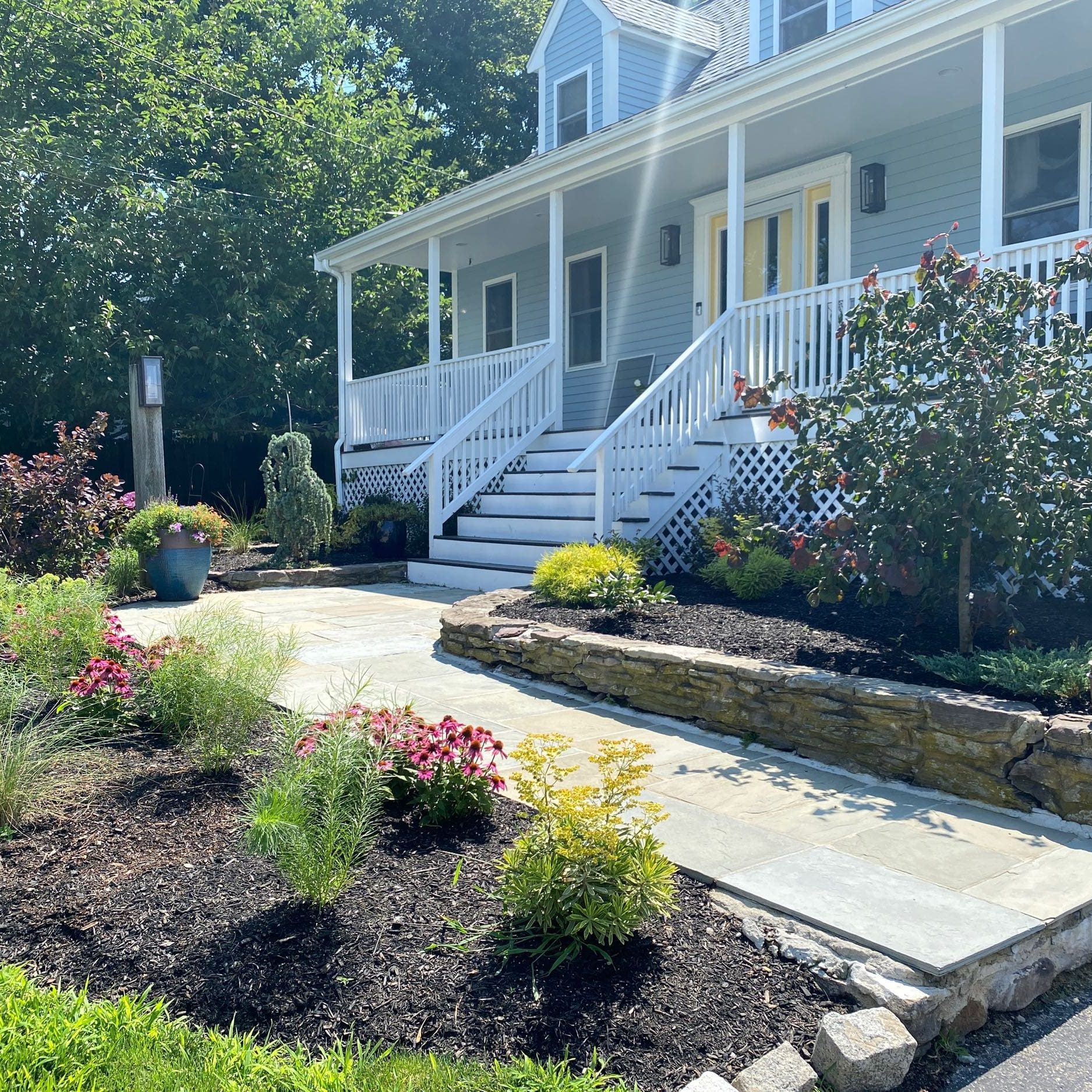 The journey to a landscape you love from start to finish starts with a friendly onsite assessment from the Molloy family. We have been providing expert landscaping services for over 60 years, and we begin every relationship with a free, in-depth evaluation of your property's landscape. Learn what your property needs to stay vibrant and picture-perfect, whether that's natural fertilizers for thriving garden beds, new lawn grading to control the flow of drainage, or new retaining walls to protect your structures and lock the soil in place. From there, we'll craft a custom landscape design and maintenance plan tailored to your budget and your vision for the property.
Trust Molloy Lawn & Landscape for seasonal cleanup and treatments (including pest control and deer/rabbit repellent), holiday light installation and snow removal in the winter, and fresh sod and plantings in the spring. We provide full-service, full-calendar landscaping management so you never have to worry. Along with our 60 years of experience, we offer convenient communication through your preferred channels, a 100% satisfaction guarantee for every service appointment, and personalized attention to your landscape every season. Contact us today to take the first step and get a free, no-obligation quote.
For our commercial clients, we also offer expert landscaping services backed by decades of experience and our dedication to prompt, comprehensive care. Braintree, Massachusetts, businesses can enjoy tailored services, including landscape design and build projects, comprehensive maintenance, snow and ice management, and more.
Receive Personalized Landscaping Services
Perfectly Aligned With Your Property's Needs
Take lawn care and landscaping tasks off of your to-do list with a single services provider. With Molloy Lawn & Landscape, you don't have to reach out to specialists for turf installation, expert tree care, new seating walls, or anything in between. We do it all, and we do it with excellence so you can enjoy complete peace of mind along with your pristinely maintained luxury landscape. We offer these landscaping services to homeowners and businesses in Braintree, Massachusetts:
Braintree, MA, Residents Have Trusted Our Team for Over 60 Years
We love serving our local clients with high-quality landscaping services and enjoy working every day to beautify our community with long-lasting landscape installations. Our clients love our services in turn because they can rely on us for quick communication, landscaping expertise, and an unfailing work ethic. See what homeowners and business owners have to say about Molloy Lawn & Landscape:
Get Your Dream Landscape With a Single Phone Call
Our seven-step process is built around your landscape style preferences and your schedule.
We can complete your landscape transformation in these seven simple steps:
If you're ready to get started, fill out our easy online form to let us know what you're looking for. One of our friendly experts will be in touch within 24 hours.
Proudly Serving Braintree, MA, and
Surrounding Neighborhoods for Decades
Milton, MA
Dorchester, MA
Dorchester, MA
Quincy, MA
Quincy, MA
Hyde Park, MA
Hyde Park, MA
Braintree, MA
Braintree, MA
We're a family-owned and operated business that specializes in serving the Milton, Massachusetts, community. For over 60 years, we've been crafting lawns and landscapes built to thrive in our unique climate, and we're constantly innovating to adopt new techniques and best practices.
Our comprehensive array of lawn care, landscape maintenance, hardscaping services, and snow removal are available for homeowners and businesses in a seven-mile radius surrounding Milton, Massachusetts, including these communities:
to Join Our High-End Landscaping Team
We hire experienced landscape designers, buildings, and maintenance professionals who are committed to excellent customer service. Browse our open positions today to further your career in your community!
Fill Out Our Online Form Today to
You care about your home's landscape, and our team is dedicated to providing it with the attention and individualized services it deserves. Come home to a trim lawn and hedges, pruned trees, and a custom outdoor living space that's perfect for your unique vision of outdoor relaxation. Call us today to learn more about our services, or fill out our online form to tell us what you'd like to see in your new landscape..