Molloy Lawn & Landscape Provides Custom Holiday Lighting Installation and Uninstallation That Fits Your Schedule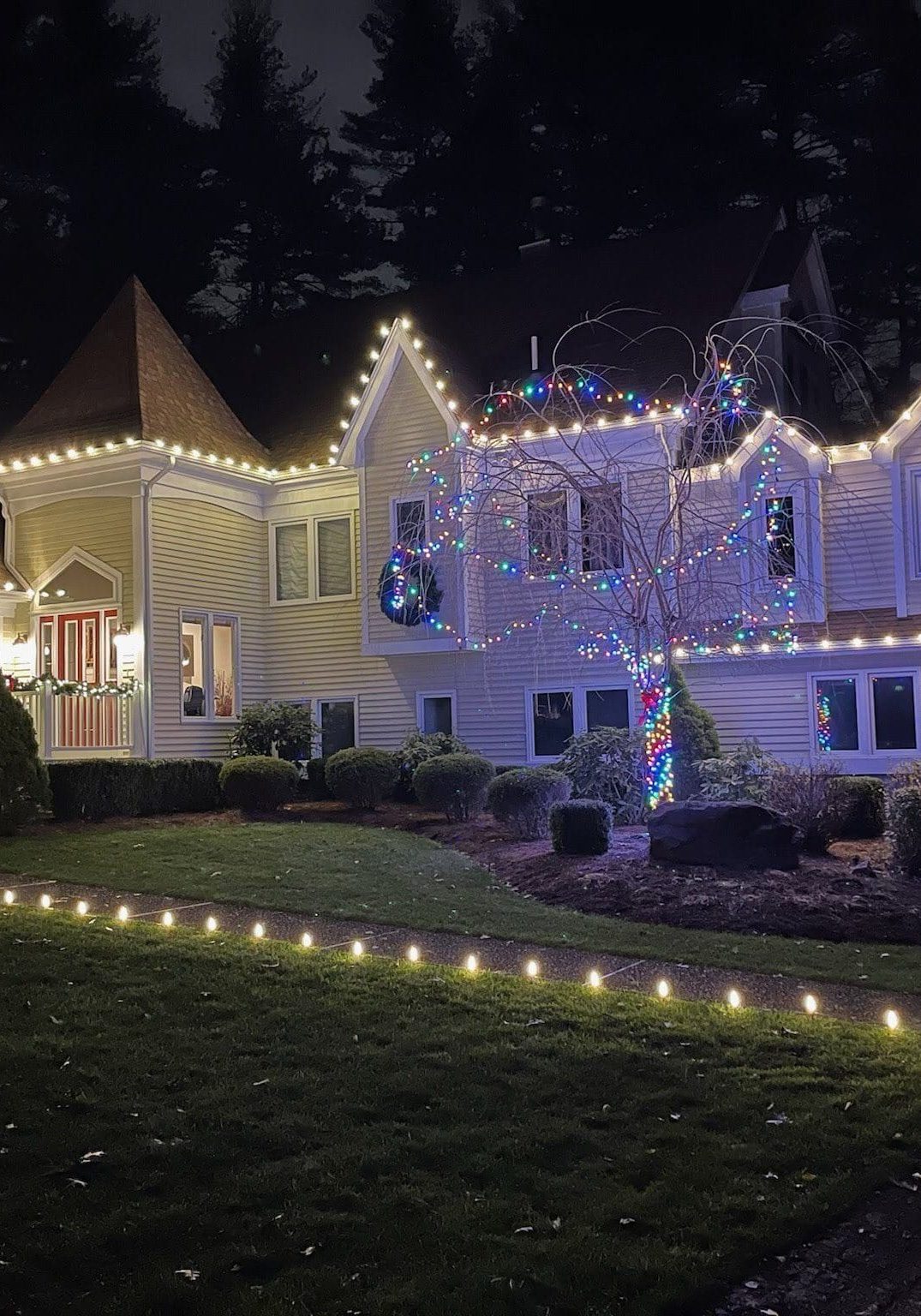 While your trees may be going dormant for the winter season and your grass is getting covered by frost and snow, you can come home to a beautifully colorful and vibrant landscape show with professionally installed holiday lighting. Cover your evergreens with bright bulbs and line your home's eaves with cheery twinkle lights for a picturesque holiday landscape every time you come home. Whether you love the classic look of red, white, and green lights or you can't wait to see a cheery kaleidoscope of colors, decorations, and inflated holiday figures all around your home, make your holiday season even more fun by having professionals install your holiday lights in Milton, Massachusetts. Choose the experts at Molloy Lawn & Landscape for a fast and convenient lighting installation appointment that transforms your home from an autumnal Thanksgiving scene to a bright and merry winter wonderland in a flash.
Just like we offer extensive landscaping services around the calendar, we do it all for holiday lighting displays. Our team can:
Install clips and hardware in your trees and along your home's exterior to create a low-profile infrastructure for ornate lighting displays.

Arrange strings of LED bulbs, twinkle lights, and lighted nets along your roof chimney, trees, front path, and lawn.

Install inflated figures, holiday signs, and other three-dimensional elements.

Program light shows, automate your lights so they shine in time with holiday music, and give you easy control over every detail of your holiday display.

Return after the holidays to remove the lights and decorations before your HOA's deadlines.
Contact us today to book your installation appointment, and let us know what you're looking for!
Explore Our Gallery to Find Your Favorite Holiday Lighting Ideas
Looking for a little pizzazz this winter? Find inspiration by visiting our gallery. You'll see our dedication to the details and our commitment to creating beautiful outdoor spaces that are the right fit for every season.
Enjoy Cute and Classy Holiday Lights Displays That
Give Your Home Extra Cheer and Spirit
Holiday lights make the start of winter merry—and it's even merrier when you don't have to add the chore to your own to-do list. The team at Molloy Lawn & Landscape is here to handle all of your holiday lighting to-dos so you have more time to enjoy the season. We've been serving the Milton, Massachusetts, community with expert care and friendly services since 1963. When you choose our team, you get:
Clear and fast communication

Get answers to all of your questions within 24 hours, and enjoy convenient service and appointment setting options online.

60 years of expertise

Get friendly service from a team that's been serving the Milton, Massachusetts, area for decades.

Molloy Promise

Come home to lighting and decor possibilities that can be as timeless or complex as you like. We're committed to creating outdoor landscapes and lighting arrangements our clients love. You also get our signature Molloy Promise: "My name is on the truck, I want you to call me back if you're not happy!"
Our Clients Love Our Reliable Holiday Lighting Services That Make Their Season Brighter
We love serving our local clients with high-quality landscaping services and enjoy working every day to beautify our community with long-lasting landscape installations. Our clients love our services in turn because they can rely on us for quick communication, landscaping expertise, and an unfailing work ethic. See what homeowners and business owners have to say about Molloy Lawn & Landscape:
Get Expert Landscaping Services
for Every Season With Molloy Lawn & Landscape
Take lawn care and landscaping tasks off of your to-do list with a single services provider. With Molloy Lawn & Landscape, you don't have to reach out to specialists for turf installation, expert tree care, new seating walls, or anything in between. We do it all, and we do it with excellence so you can enjoy complete peace of mind along with your pristinely maintained luxury landscape. We offer these landscaping services to homeowners and businesses in Milton, Massachusetts:
We Make It Simple to Enjoy Lights and Decor During the Holiday Season—And Take Care of Everything Once the Holidays Are Over
Our seven-step process is built around your landscape style preferences and your schedule.
We can complete your landscape transformation in these seven simple steps:
If you're ready to get started, fill out our easy online form to let us know what you're looking for. One of our friendly experts will be in touch within 24 hours.
Proudly Bringing Holiday Cheer and Reliable Landscaping Services
Across Milton, Massachusetts
Milton, MA
Dorchester, MA
Dorchester, MA
Quincy, MA
Quincy, MA
Hyde Park, MA
Hyde Park, MA
Braintree, MA
Braintree, MA
We're a family-owned and operated business that specializes in serving the Milton, Massachusetts, community. For over 60 years, we've been crafting lawns and landscapes built to thrive in our unique climate, and we're constantly innovating to adopt new techniques and best practices.
Our comprehensive array of lawn care, landscape maintenance, hardscaping services, and snow removal are available for homeowners and businesses in a seven-mile radius surrounding Milton, Massachusetts, including these communities:
Looking for Full-Time Landscaping Work All Year Round?
Apply Today to Join the Molloy Lawn & Landscape Team
We hire experienced landscape designers, buildings, and maintenance professionals who are committed to excellent customer service. Browse our open positions today to further your career in your community!
Reach Out Today for Holiday Lighting Installation
—Holiday Cheer Is Just a Quick Call Away
Don't get out your ladder or tangled string of holiday lights this year. Instead, leave it in the hands of our landscaping team! Fill out our simple online form to get a professionally installed holiday lighting display this season. We provide speedy installation and reliable uninstallation once the new year rolls in.